THE ALUMNI CHALLENGE COMING MARCH 15TH

The Servite Alumni Challenge is a friendly competition between the classes designed to increase alumni participation and raise needed funds for Servite High School. This year's challenge will run from March 15th – April 6th. Points are awarded for a variety of items, from updating your alumni record to following us on social media to attending or participating in special Alumni Challenge events.
This year's tournament offers some new twists. The first alumni challenge event will be the March Madness Bracket Challenge hosted on the ESPN website. The second alumni challenge event will be an Alumni Happy Hour on March 24th at Red Beards Tap Room owned by Al Pirruccello '75. Lastly, we will conclude our alumni Challenge with the 2nd Annual Servite Cornhole Tournament on Saturday, April 4th.
Be sure to watch your email and follow us on Facebook and Twitter for more information as well as special weekly points challenges.
Help your class prevail in the 2020 Alumni Challenge. We are looking for Friars to serve as class captains. Class captains are asked to communicate and give encouragement to their classmates to participate in the Challenge. Servite will provide you with the materials and contact information for your class.
Send an email to alumni@servitehs.org if you are interested and would like more information.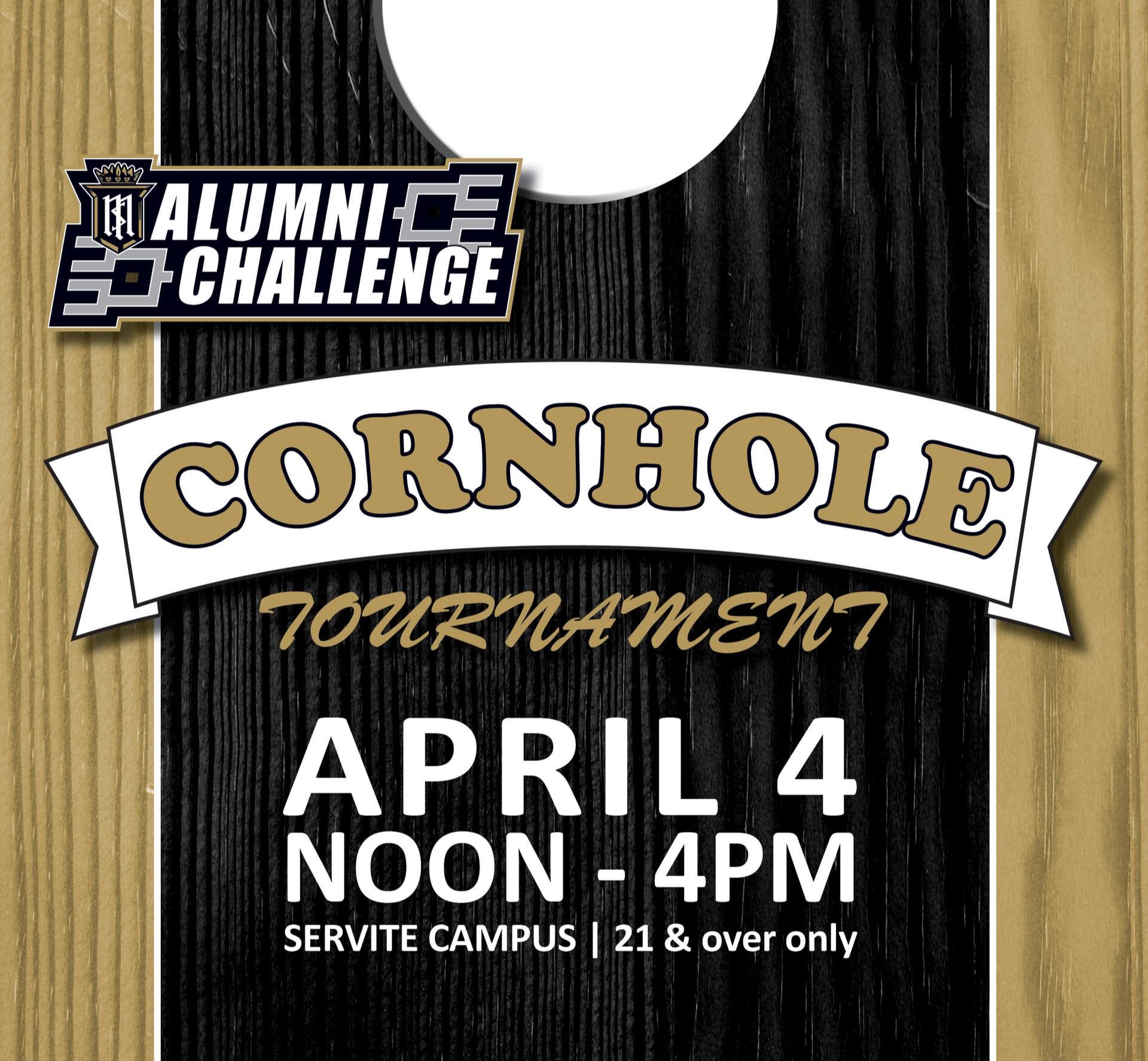 SAVE THE DATE
The Servite Alumni Association will be hosting the 2nd Annual Servite Cornhole tournament for Servite alumni 21 & over on Saturday, April 4, 2020. Whether you register to play ($10 per person/2 person teams) or just come to watch and enjoy food, beverages, and fun, it's a great chance to connect with friends and visit the Servite campus. Campus tours will be available for those interested.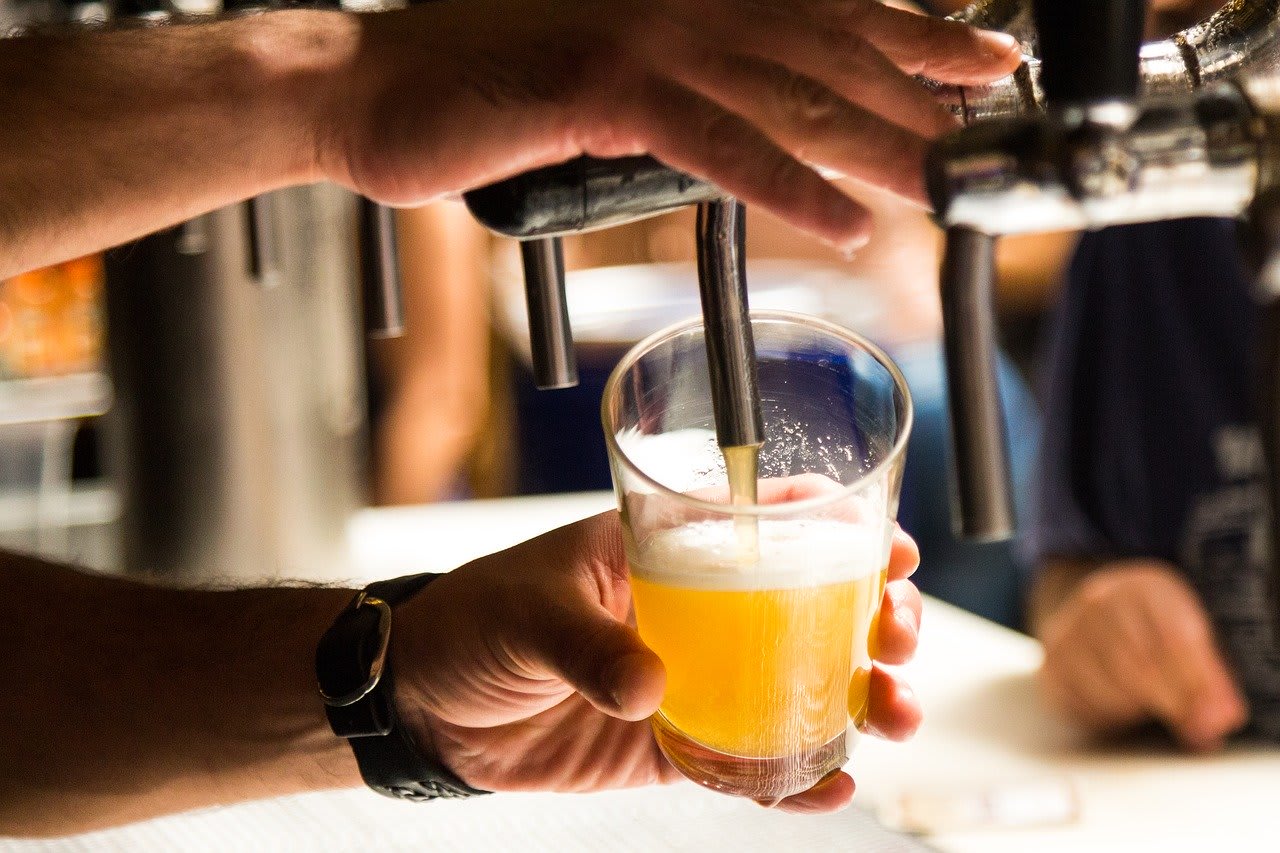 Alumni Happy Hour
Tuesday, March 24th 5:30pm
Join your fellow Friars for an evening of beer and wine at Red Beards Tap Room owned by Al Pirrucello '75. Check out 40 varieties of craft beers as well as a variety of wines by the glass.
Earn points for your class during the Alumni Challenge by attending this event. Enjoy complimentary appetizers and your first drink free if you pre-register by March 22nd!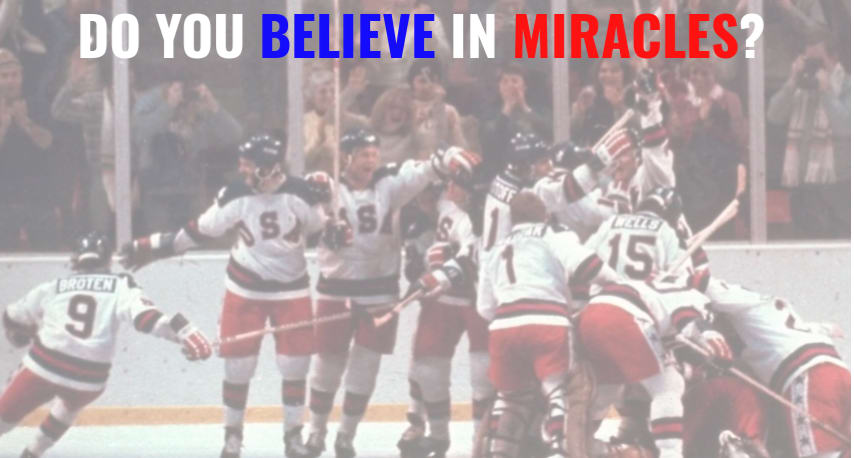 TICKETS STILL AVAILABLE FOR EXCELLENCE IN LEADERSHIP GALA ON MARCH 6TH!
Don't miss your chance to hear Mike Eruzione, captain of the legendary 1980 US Olympic hockey team, give the keynote address on Friday, March 6th at the 10th Annual Excellence in Leadership Gala. The US victory over the Soviet Union was named the Sports Moment of the Century by Sports Illustrated. This special event at the Newport Beach Marriott will also honor Tim Buckley '73 (CEO of Vintage Design) as our Distinguished Alumnus and Sr. Johnellen Turner OP (St. Catherine's Academy) as our Community Leader honoree.
Contact Steffanie Early, Vice President of Advancement, at (714) 774-7575, ext. 1127 or searly@servitehs.org for sponsorship information.
FUTURE FRIAR OF THE MONTH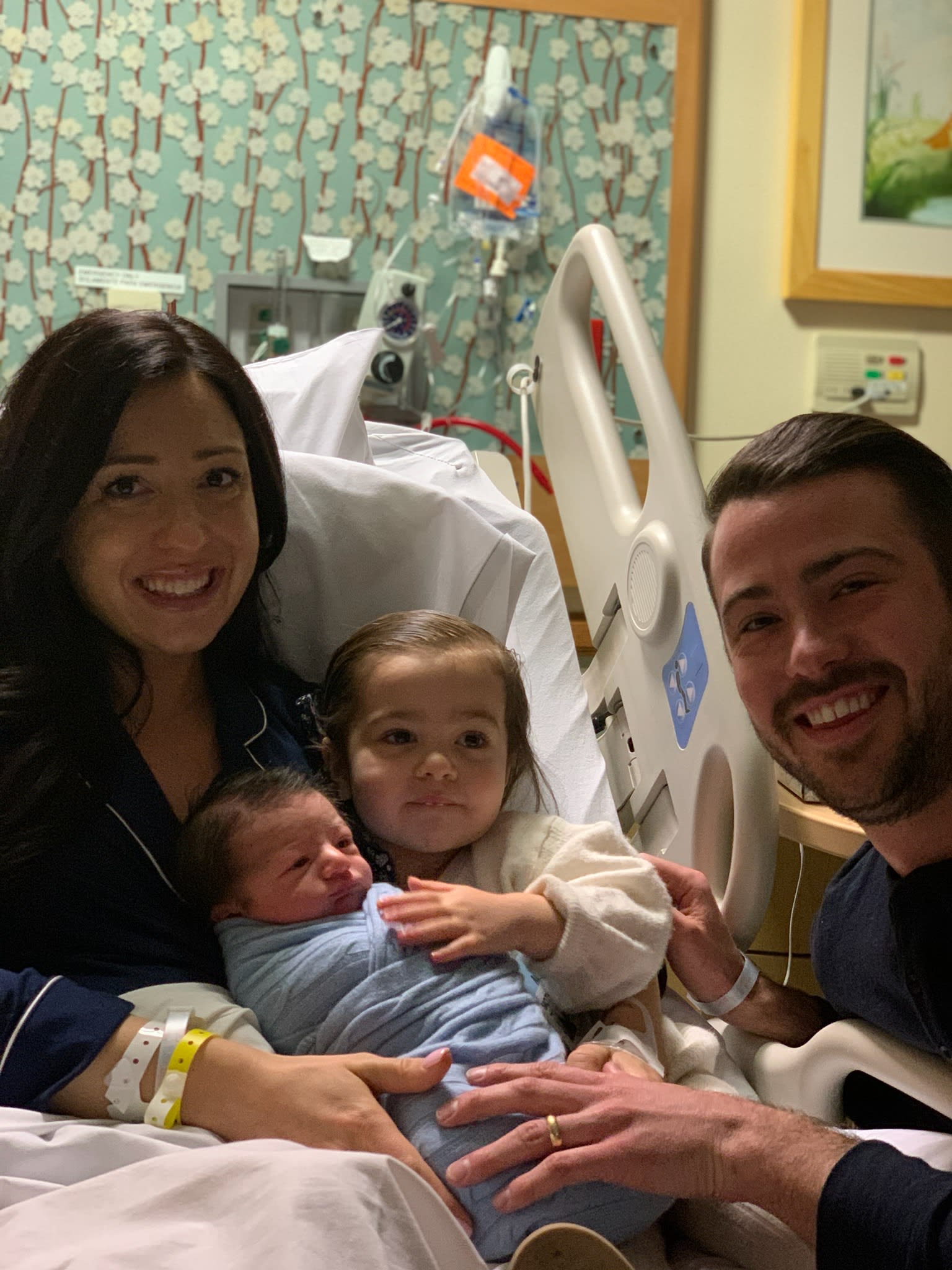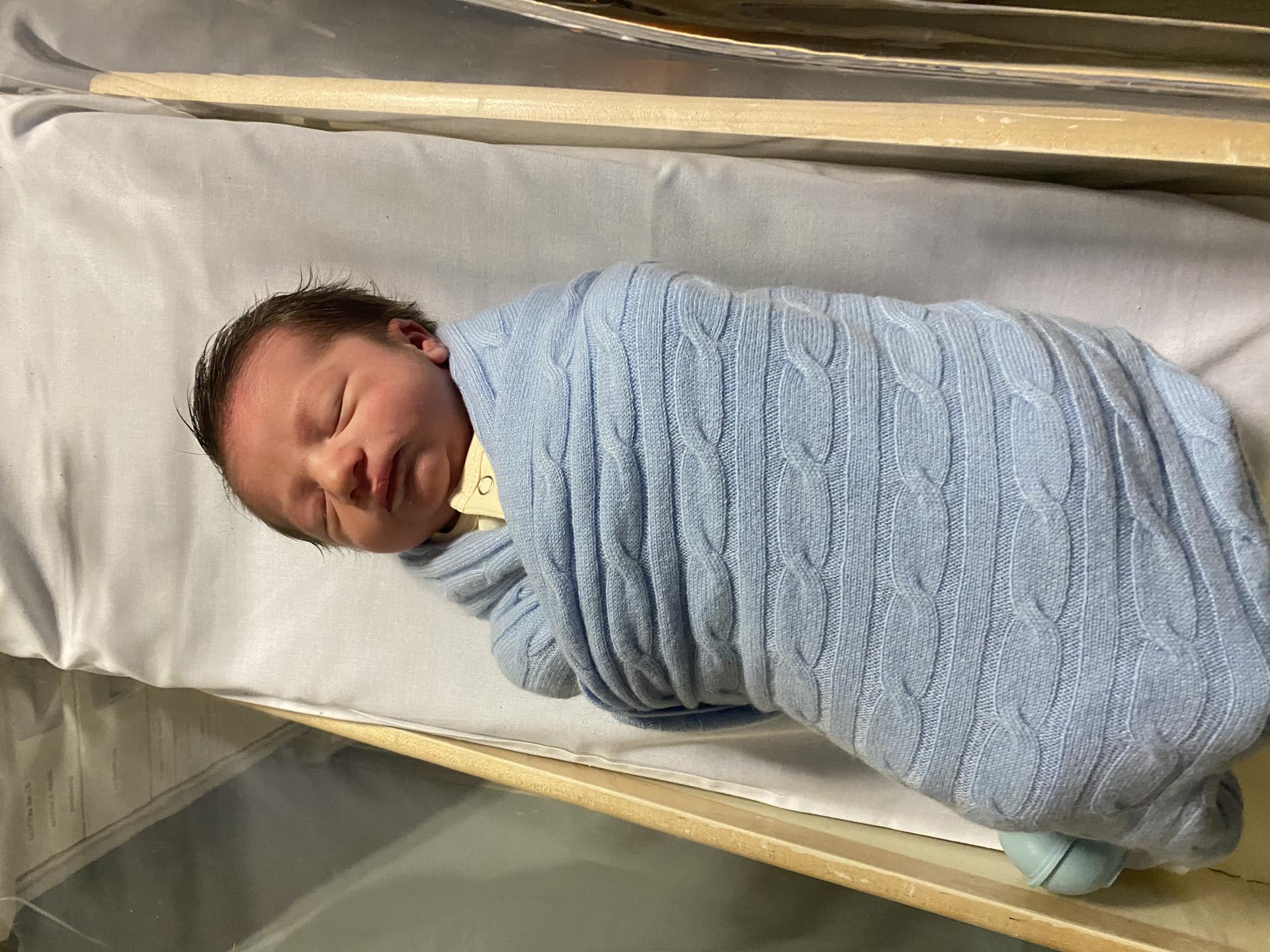 Congratulations to Tony DeFrancis '07 and his wife Sophia (Nabavi, Rosary 2007) on the birth of their son Luke on February 18th. He weighed in at 7 lbs, 15 oz and 20 inches.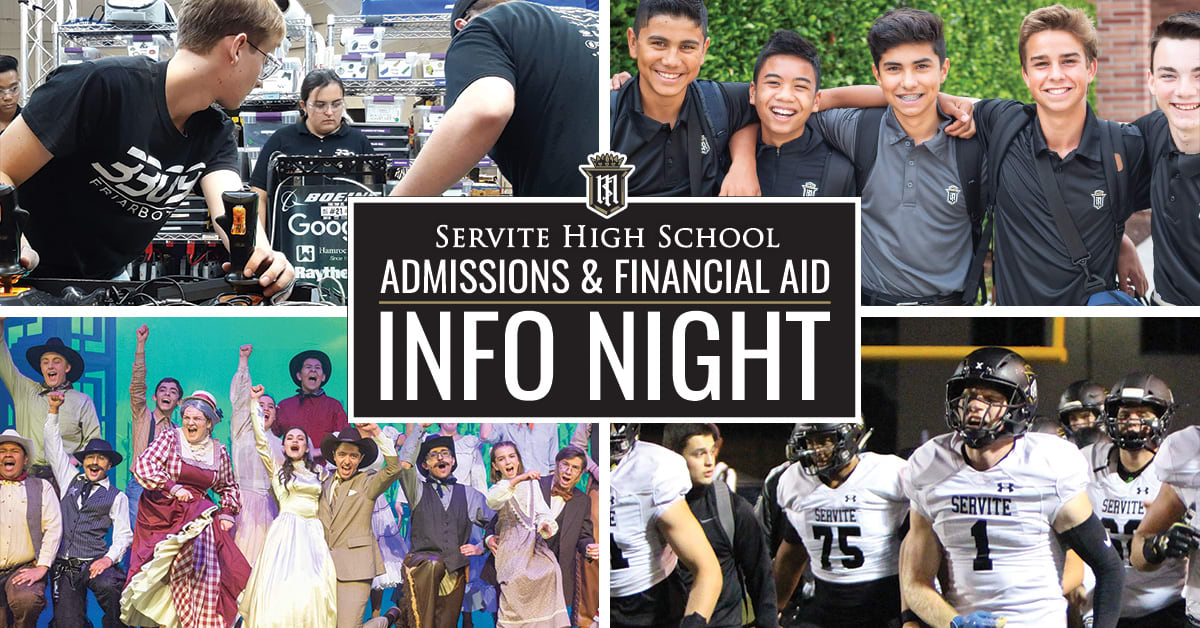 Know or have a potential future Friar? Let them know about our Admissions and Financial Aid Info Nights. These nights are a great opportunity to learn more about every aspect of the school and decide if Servite is the best fit for you or a friend's future. That last hour of each event (7:30-8:30PM) is dedicated to financial aid information and walking through the process.
FEATURED FRIARS OF THE MONTH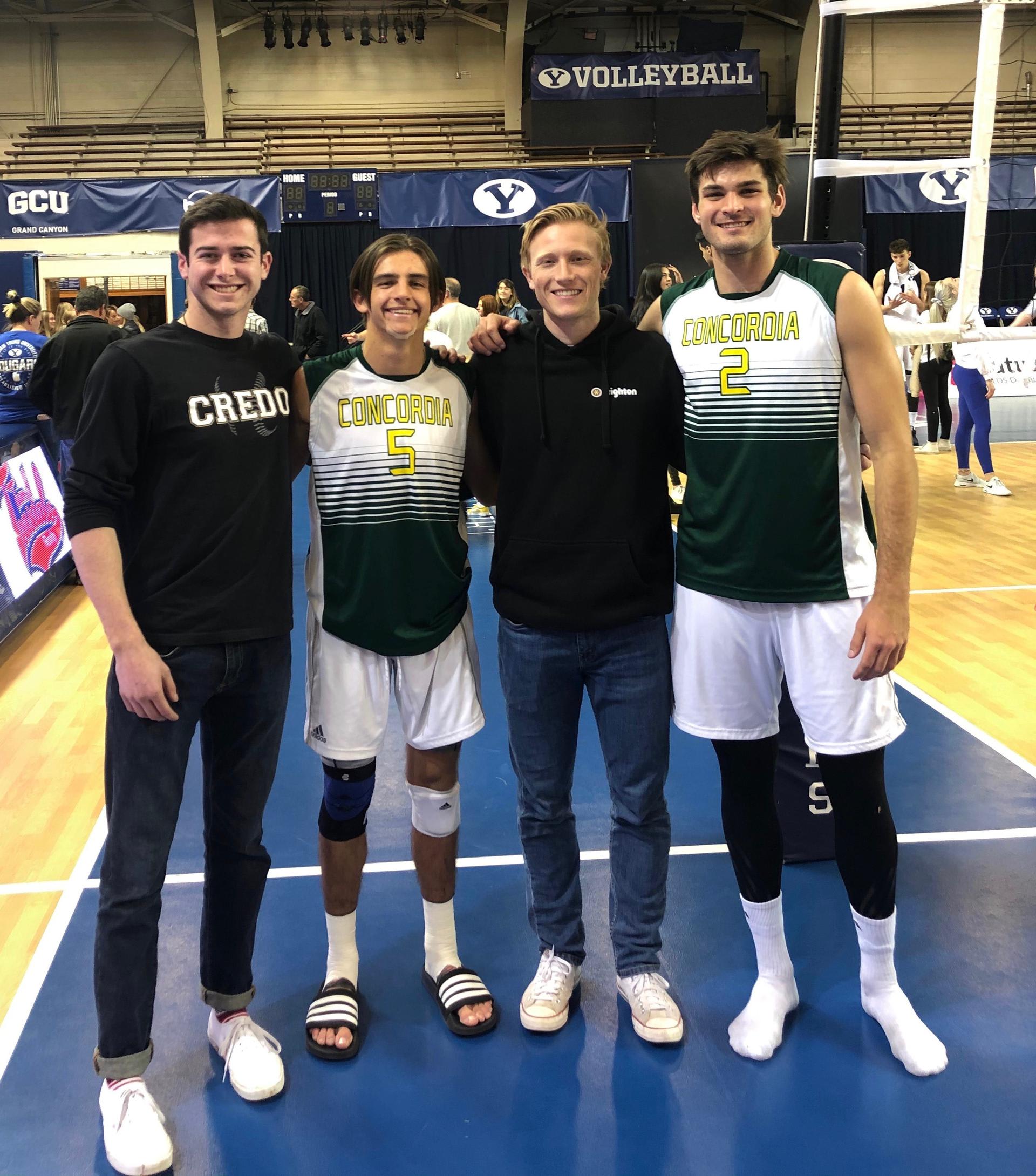 Members of the class of 2019 reunited in Provo, Utah to support their classmates playing Volleyball for Concordia University. Pictured: Connor Buchanan, Christian Oviedo, Parker McGrade, and Gil Herold.
Please send photos of you and your classmates getting together to alumni@servitehs.org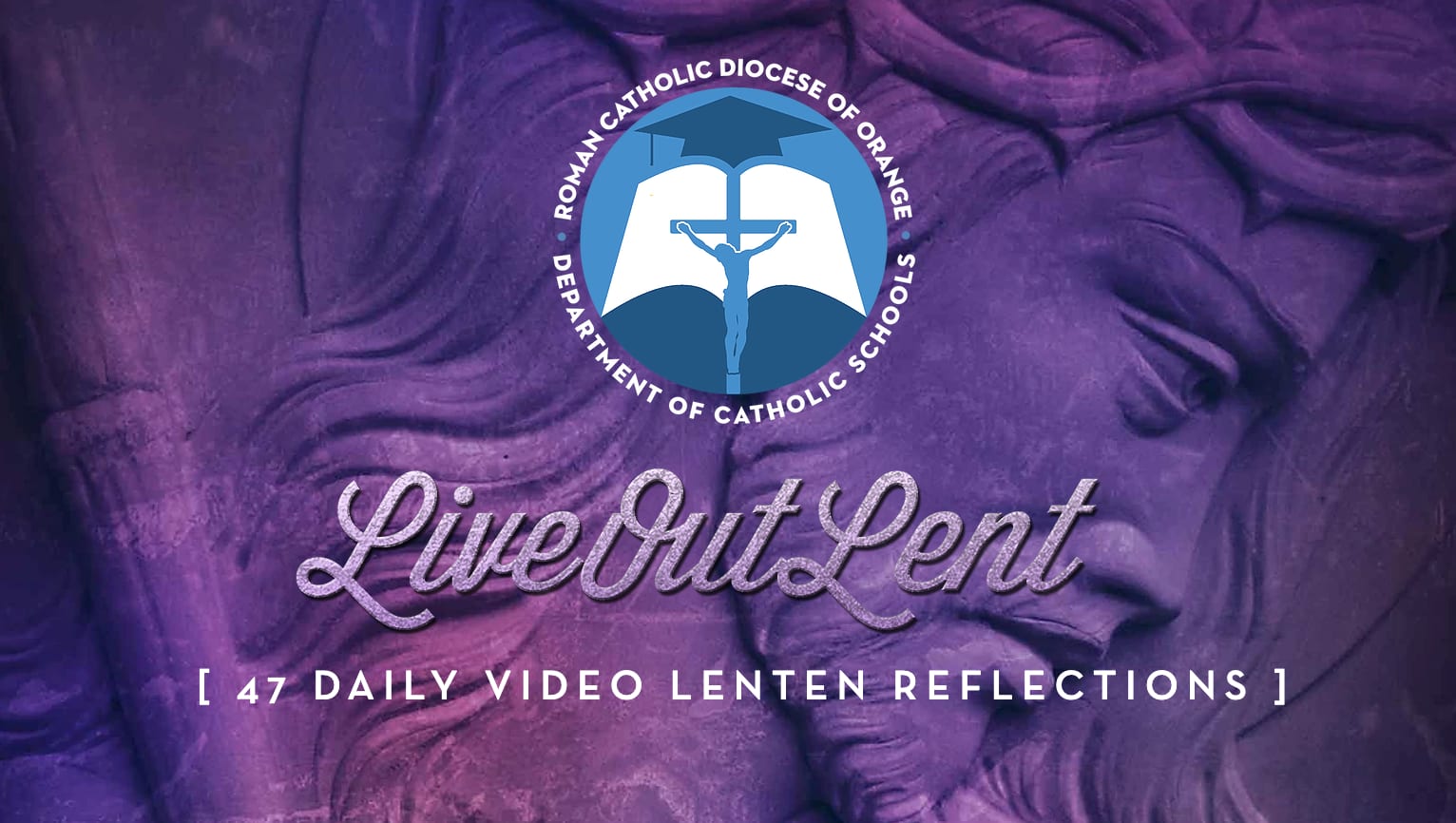 Bishop Vann has invited the local Catholic community to join together in sharing moments of reflection, contemplation, and witness. Servite High School is participating with 40 other schools to share in this Lenten journey. You will be able to watch and learn about ways to "Live Out Lent!"
Check out March 1st Meditation from Ryan Kay '20.

Alumni Bracket Challenge
Compete against your fellow friars to see who can create the perfect bracket! You will earn points for your class by entering the competition and earn bonus points for finishing with one of the top brackets at the end of the tournament.
When you join the group please make sure you create your username to be your first inital followed by your last name and graduation year.
Here is the information to join:
Group Name: Servite Alumni
Password: ServiteAlumni

VOLUNTEERS NEEDED!
If your graduation year ends in 0 or 5, 2020 is a reunion year! Planning early helps to ensure success. We can help provide contact list, assist in event promotion and more. Please send an email to alumni@servitehs.org if you'd like to help plan your reunion.
Save the Dates:
Class of 1990- Saturday, Oct 10th
Class of 2010- Saturday, Aug 29th
*More Details will be emailed soon.
In the Process of Planning:
2005, 2000, 1995, 1985, 1975
*If your interested in joining these committees please email alumni@servitehs.org
WINTER SPORTS CELEBRATE POSTSEASON SUCCESS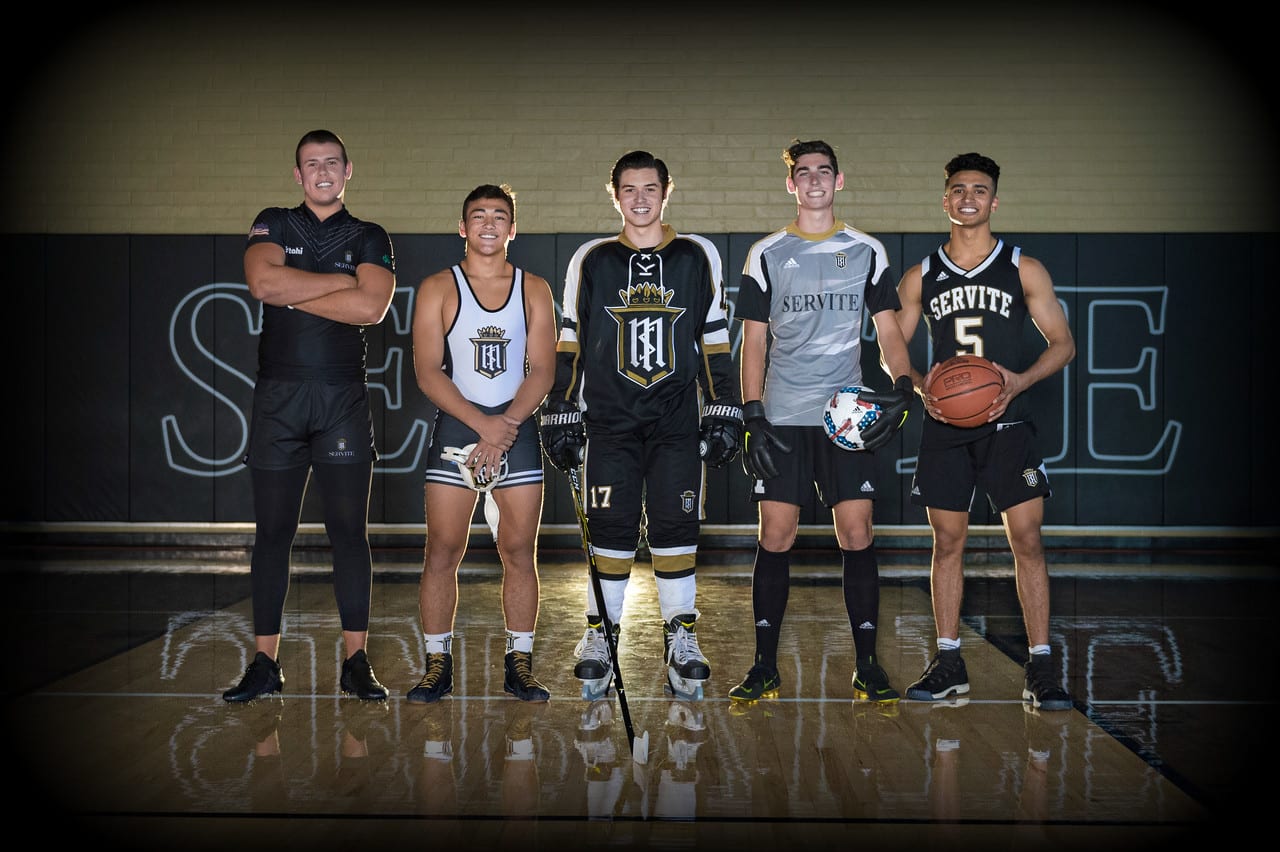 HOCKEY:
Hockey won the ADHSHL Commissioners Cup Championship defeating Capistrano United 2-0 in the finals! Previously, the Friars topped Carlsbad 3-1, Orange Lutheran 5-1 and Villa Park 3-1 to earn a spot in the championship game.
RUGBY:
Rugby took 2nd in the So Cal Youth Rugby Championships after defeating Corona Centennial and La Jolla to reach the finals. As finalists, the Friars advanced to the State Tournament where they finished 4th in the State.
SOCCER:
Soccer defeated Loyola 2-1 to win the 2020 CIF-SS Division 1 Championship, their first title since 2015. Uriel Sanchez scored on a penalty kick in the first half then Dean Hirsch scored the game winner in the 65th minute to help propel the Friars to victory. Soccer begins play in the CIF Regional Tournament Tuesday at Cathedral Catholic (SD) at 4pm.
WRESTLING:
Wrestling competed at the CIF State Tournament in Bakersfield finishing with three placers and in the top 10 overall. Seniors Tristen Wilson, Valor Buck and Josh Medina all medaled for the second time in their high school careers with Wilson (195) taking 3rd, Buck (170) finishing 5th and Medina (138) placing 6th. Sophomore Marcus Medina was also recognized with the Southern Section Wrestler of Character Award.
Make sure to follow Servite Athletics on social media (Facebook, Instagram and Twitter) to keep updated with all of our athletic teams.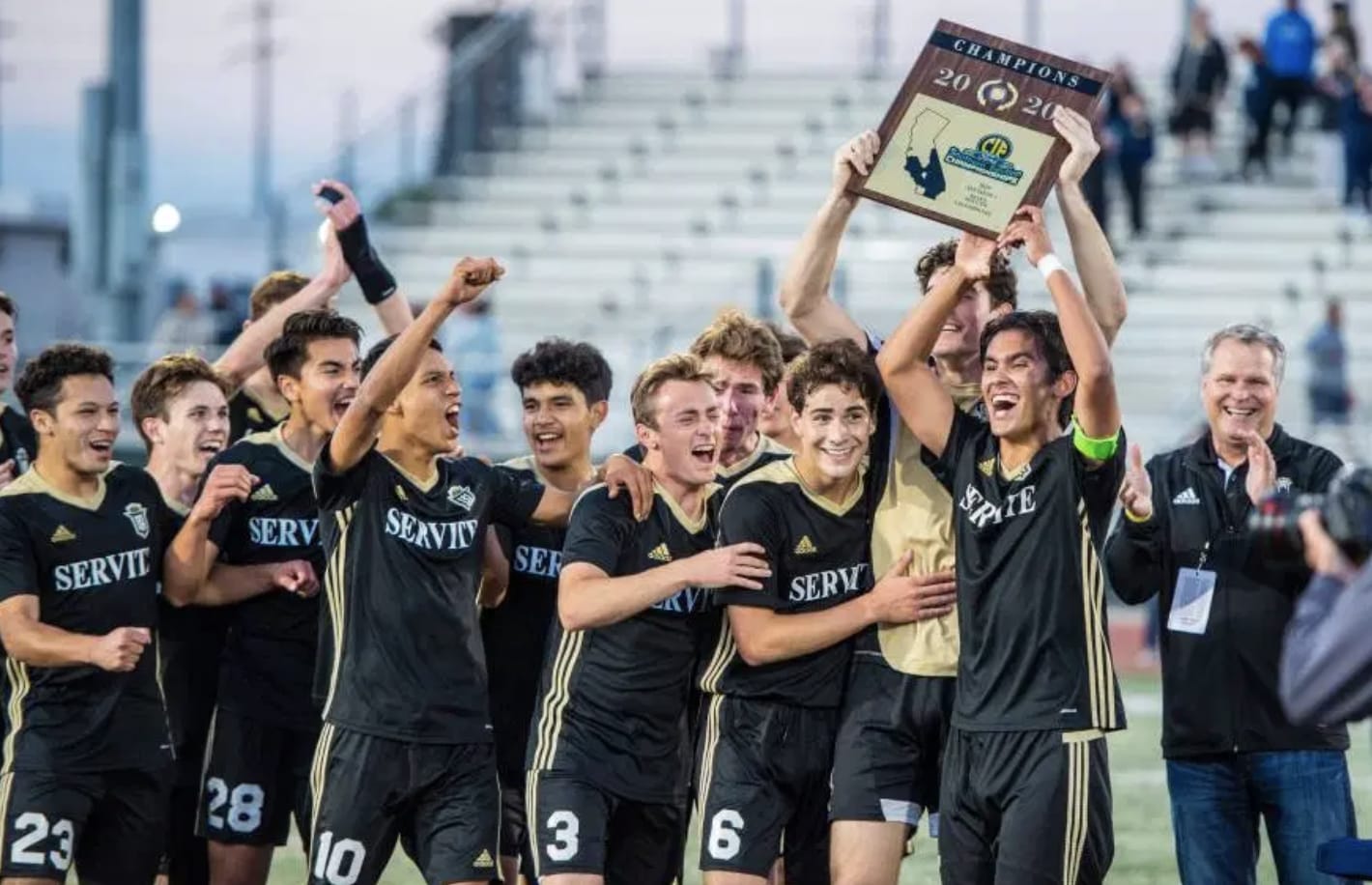 Servite celebrates their 2-1 win over Loyola in the CIF-SS Division 1 championship game at Warren High School in Downey on Saturday, February 29, 2020.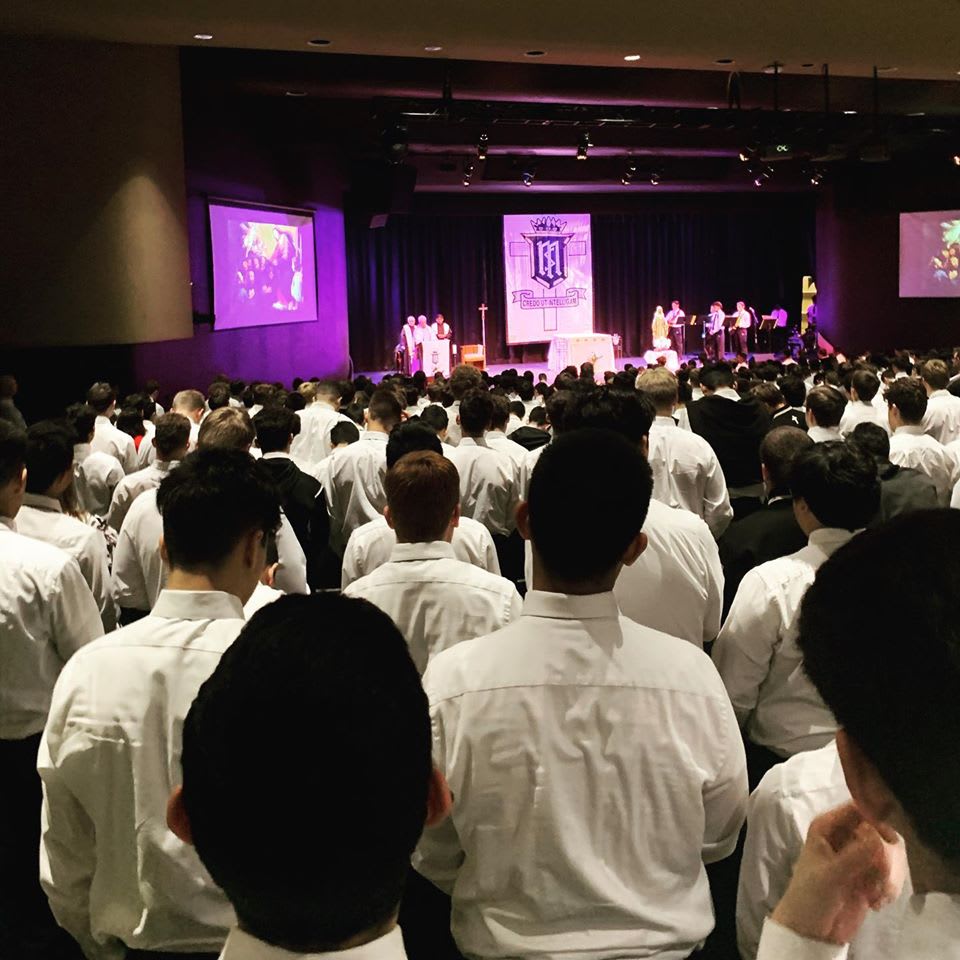 Campus Ministry is in the planning process of a one day spiritual refresher for the classes of 2019, 2018, 2017, 2016, and 2015. If you are interested and would like more information please email Bobby Angel, bangel@servitehs.org


Evan Murray '11 attended Full Sail University in Florida to study video game design. After graduation Evan took a job at Playstation where he has worked the last four years until recently landing his dream job of working at Blizzard. Him and his wife are now living in Orange County and expecting their first child.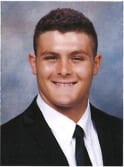 Congratulations to Carlos Nava '16 on getting married to his wife, Danni. Carlos is currently attending Norwich University studying Criminal Justice. He will be graduating in May 2020.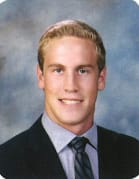 Brian Crosser '13 recently was married to Christina (Cocchi Rosary 2013) at St. Joseph Placentia. Brian is working as a Software engineer at Envisions and Christina is a RN at St. Jude. They are living in Placentia, Ca.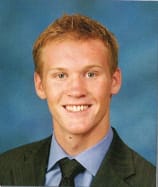 Congratulations to Zachary Lewis '09 on his recent engagement to his fiance, Reilly. Zach is currently a pilot in the United States Air Force.

Bill Hoody '77 welcomed his newest grandchild Raelyn Harper Hoody on February 28th. Raelyn weighed in at 7 lbs 10 oz and 20 inches. Bill is currently living in Minnesota with his wife.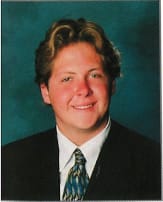 Congratulations to Rory Bevins '05 for leading the Rosary Waterpolo team to the CIF Southern Section Division 3 championship. In addition to being the Head Water Polo coach Rory also teaches English at Rosary.

Brian Eccles '15 graduated from Cal State Fullerton where he studied Finance. This year he took a new job with Southern California Edison as a Financial Analyst.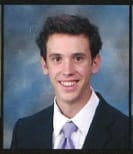 Gino Paul '10 is now an Account Executive at USC Athletics. He previously worked for the Los Angeles Clippers. After Servite he attended Marymount California University where he earned in a BA in Business and completed in his MBA.
STAY CONNECTED
Update your contact information and/or share an update for the alumni newsletter on our website or send an email to alumni@servitehs.org. If you have a new child or grandchild, be sure to share the good news and we will send you a Servite bib.
Unsubscribe Link